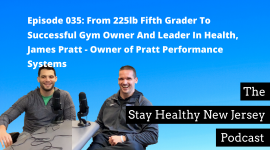 For the 35th episode, we finally got Justin's fitness trainer on the podcast!
James Pratt is Justin's trainer, his wife's trainer, his father's trainer, his friend's trainer… the list goes on.
James opened up Pratt Performance Systems about four years ago. James has a passion for fitness and helping people become strong and healthy, which he discovered from a young age.
As a kid, James was overweight and took matters into his own hands when he got his first bench press set from his father – the original 'Pratt Performance System.' He began training his friends, learning more about fitness and nutrition, and today he runs a successful business and is a leader in the health and wellness industry.
Click here to learn more about Pratt Performance Systems. You can follow James and Pratt Performance on Instagram and Facebook at @prattperformance
Click below to listen!!